With the sound of Pulsars on several hand held speakers, two performers inadvertently walked in to the crypt of St John's Church, infiltrating a famous artwork….
Accidental infiltration into – Line Describing A Cone by Anthony McCall
http://www.tate.org.uk/art/artworks/mccall-line-describing-a-cone-t12031
Our peripatetic journey through St John's Church, in the vaults and outside the gates into the traffic filled streets, on their Video Club Night maybe added to and created some 'chaos' to the event Beyond Chaos! Waterloo, London.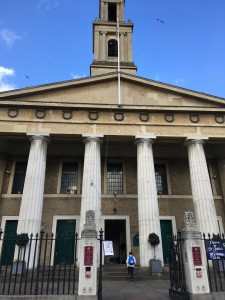 BEEF – Bristol Experimental and Expanded Film – contributed several works to an evening of works. http://www.beefbristol.org/
As a member of BEEF I was part of this cohort of artists, and brought a version of Pulsars where I experimented with using the Pulsar star sounds on 4 speakers held by two people. The speaker holding performers made there way round the visiting different spaces.

Speakers and Mp3s
END