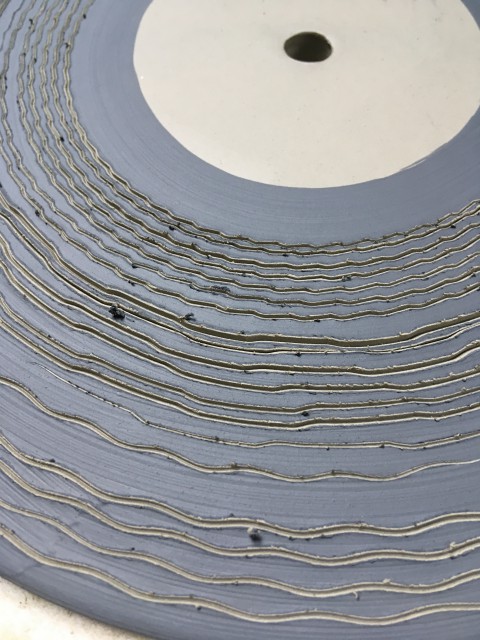 Clay disc mastered with sound
As a spherical disc shaped slab of clay turns on a turntable. In the clip below you can see a vibrating hand-held speaker with an attached pointed sharp tool, making marks in the disc as it turns.
The marks in the disc are the result of the vibration of the sound from the speaker. When fired the solid disc with marks in it could theoretically be played like a record, and play back the sounds marked in it.
DJs and Sound Artists Sonny Lee Lightfoot, Issac Stacey – known as Copper Sounds and ceramicist Milly Hardy, ran a workshop on 31st March 2018 at the Brunswick Club in Bristol that I attended. https://brunswickclub.org.uk/
Here's a more recent workshop Copper Sounds has organised at the Arnolfini Bristol.
https://www.arnolfini.org.uk/blog/hello-copper-heads
The ceramic studio is here:
https://www.wiltshireceramicstudio.co.uk
I have been speaking with the artists about the ideas around making a disc out of stone instead of clay. We discussed various ways this could be done with diamond cutting equipment or lasers and types of stone or other materials that could be used. The stone samples we are going to try out first are alabaster, soap stone, blue lias, marble and obsidian.
Also at the workshop was sound artist and DJ Graham Dunning. Dunning is known for his Mechanical Techno constructions and performances. It was great to construct with his help a near instant version of his ideas using a tier of discs that when played created repeated rhythms. Here's my own creation made in the workshop that day in the clip below.
https://tickets.partyforthepeople.org/events/3867-workshop-modified-records-for-mechanical-techno