Big Sound Waves – getting the measure!
The Pipe
My idea was to show a large-scale resonator (pipe) that would describe how long the LIVE sound
wave   actually was, and we would hear and experience the vibrations of the sound wave as it
resonated  in the pipe.  I was aiming to play a 16 meter long sound wave!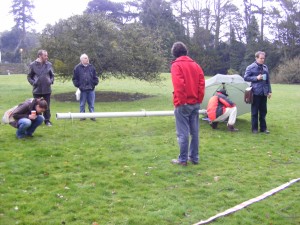 I set up a geophone that played live sound from the ground into a speaker at the end of a pipe.

A 4 m  sewage down pipe was the largest I could get my hands on at this time. The geophone

was  picking upthe sound of the traffic 80 m away, across Headington House Gardens at

Oxford Brookes  University.

I found out that sealing the end of a pipe would create a lower frequency, in fact a quarter of the length of a sound wave in a sealed pipe.  So our 4m sealed pipe resonated the same as the whole 16m length of sound wave in an open or un sealed pipe, amongst other frequencies. Ours was not an exact science as far as the sealing up of the pipe went. (With an outside setting there were not exact workings regarding end correction etc.)  I had some helpful advice from musician and electroacoustician, Sarah Angliss and artist and technologist Mike Blow, who played a sine wave into a carefully sealed pipe and had the maths to prove it.

http://mikeblow.wordpress.com/

Open 16m pipe at  21Hz (Just audible)

4m long sound wave resonates best in an open 4m pipe at 85Hz (You can hear this)

A 4m sealed pipe resonates ¼ of a 16m sound wave at 21Hz  (Just audible again)

http://www.sengpielaudio.com/calculator-wavelength.htm

So what were we listening to? Here's some of the sound and vibration if you have good bass speakers or a sub.

[audio:https://shirleypegna.com/wp-content/uploads/2011/01/pipe-blog-sound2.mp3|titles=pipe blog sound]
Revealing-   Showing –   Illustrating –   Demonstrating –   Informing –   Illuminating –   Amplifying
So, did it work? It played sound, and different frequencies were resonated. It didn't work in the way I had imagined, because these details, in my head, were not obvious to the observing audience. The feedback was varied: it had encouraged some people to think to of the space under their feet, to imagine a massive inaudible sound in the earth, to question the trickery of the equipment, think of the 'ground as a vibrating surface', and importantly question the need to standardize the equipment in order to understand what I was listening to.
It posed the question: When is an event a demonstration of science, and when is it art?  Is there a difference and does it matter? Sound artist Alvin Lucier, in an interview with Chris Buck in the Wire (issue 245 2004) states, 'Scientists often miss the poetic beauty of nature and the sensual experience of natural forces…. I understand the (scientific) principals more because I've used them in a piece experientially rather than theoretically'. With that in mind it's definitely worth checking out these works:
Katie Patterson – Moonhttp://www.wired.co.uk/wired-magazine/archive/2010/05/play/katie-paterson-the-universe-s-official-artist?page=all
Mark Bain – Live Room:Transducing Resonant Architecture
http://www.nettime.org/Lists-Archives/nettime-l-9908/msg00023.html
Bill Fontana – Speeds of Time
http://www.resoundings.org/Pages/Speeds_of_Time_new.html
Roberta Gigante  OrgOOn in  Ghent Docks
http://www.we-make-money-not-art.com/archives/2010/05/organoon-at-electrified.php
I was sorry to miss this festival in Ghent last year, where Roberta Gigante was playing sound into 30m long pipes. Open at one end they would be resonating at a frequency of 11.43 Hz.   Given the pipes could be sealed frequency would be =3.81Hz and the sound wave 90m long. That is some length of sound wave!
If anyone knows the whereabouts of some monster sized pipes in the UK, then let me know as I 'd be delighted to use them for some sound experiments.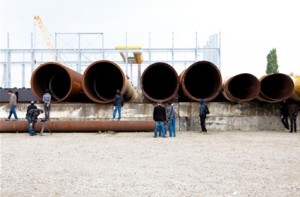 Roberta Gigante  OrgOOn          photo: Reinout Hiel for Vooruit