BEEF Members Show 2016
photo Nathaniel White – Square Ringers
Sounding the Square
Round the Square was a site-specific sound performance outside in a square, where the surfaces of the pavement, path and road were 'sounded out' or 'played' by metal rims of different sizes being bowled along over them. A cohort of runners and walkers set off at a given time, to bowl along the rings and anyone could join in (40 rings were available.)
The texture of the surfaces, the size and type of the metal and the resonance of the space, along with the number and speed of the metal rings, created the sound. The sight of sound being made so simply, contrasted with the complex sound it created. Players stopped and started, went faster or slower when they pleased, and handed over their hoop when they had finished. The fact that it was dark gave an atmosphere to the proceedings. There was a transfer of the collaborative energy of the players to the sound.
The sound rang out amplified by the physical dimensions of the square itself, and continually changed according to one's position in the square. While the sound and sound makers travelled, the square was used as a musical instrument.
The work pays homage to the centuries of boots, hooves and wheels that have sounded out and rounded the square.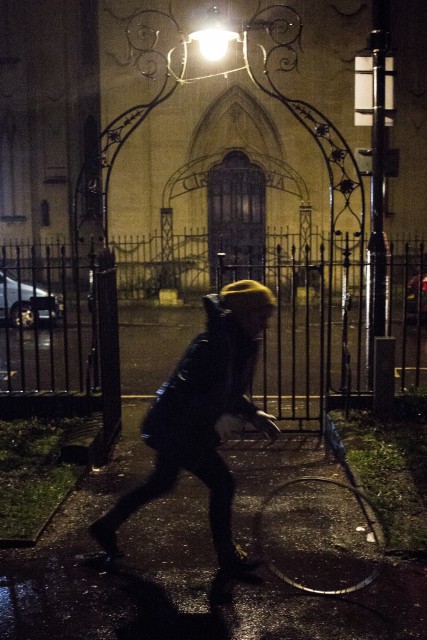 photo Nathaniel White – Bowling Along
END