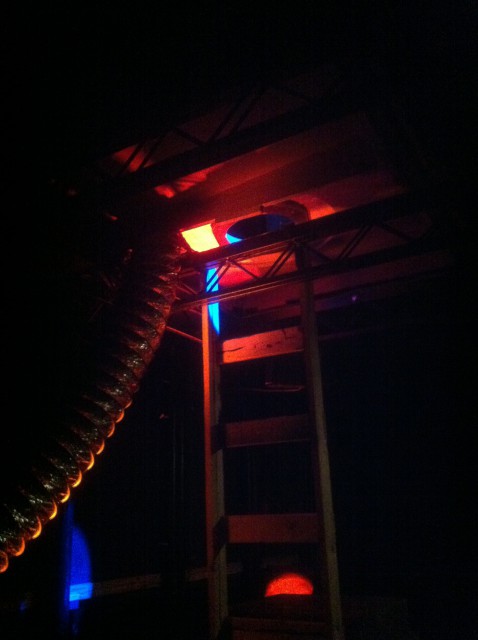 Below the Stage
I went to record sound from under the floor at the Bristol Old Vic main stage. The final 4min edit was played on the anniversary of their 250th birthday. The curtains went up, audience viewed an empty lit stage and heard the sound track I had pre recorded entirely from under the stage. The sounds were from their most recent show, but this audience was required – invited to create a show from their own imaginations.
Stage and Auditorium
The stage was hardboard, chipboard and floorboards over my head. I had borrowed a Maranz PMD620MKll sound recorder plus a rifle mic, 2 hydrophones (working as pickup mics placed flat to the wall joists) and my own Edirol R 09.
The sounds from the floor above were clear and audible also through the structural joists. As well as directly overhead there were sounds from backstage including tannoy calls and actors and props getting on stage via the trap door beside me (including buckets of water.)
Best with headphones
Recordings from Below Stage
The opportunity to record under the stage for the birthday arose when I approached them to record under the stage for my own research. I had become interested in the idea of recording under floors – looking up at the ceiling below to listen. So to start I went to record under stage floors. The Theatre Royal Bath, the Cube Cinema Bristol (with stage) and the Bristol Old Vic each held different 'flavours' and 'atmospheres'.
I took note of the dragging rolling and dropping of objects, the walking, stepping, running, shouting and mumbling heard from underneath. The different floor materials gave up (down) varied sound qualities. I found that listening like this, at once 'removed' by the materials of the ceiling and building, but also physically connected to them, created a strange feeling of 'displacement'. A feeling I'd like to find out more about.
Best with headphones
Under Theatre Royal

Under Cube Cinema

Old Vic Through The Joists

I wrote down
Beyond our sight – in another place we're called upon to imagine -– not quite known – wood and dust – musty – underground – beyond our experience – beyond borders – cement – hidden – identity – muffled – close – aware of breathing – space – air space – shout – listen
Backstage Downstairs
END